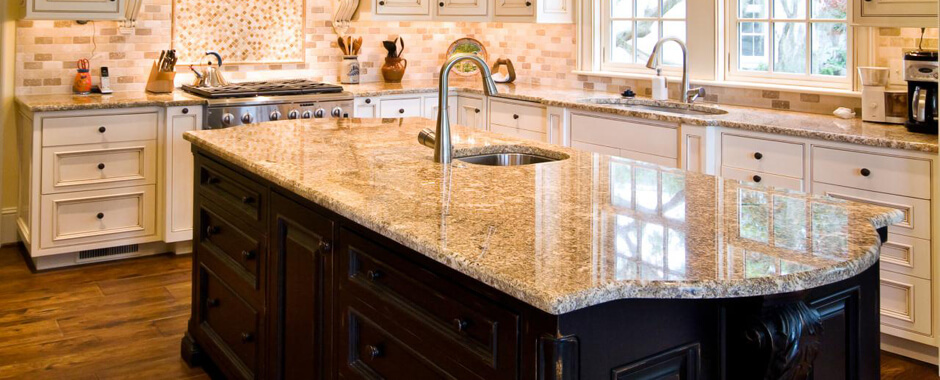 Kitchen Countertops In Brighton, MI
The trend nowadays is for everything to go natural – diets, fabrics, cars, even household items, and materials. Why shouldn't you invest in a high-quality, all-natural and stunning content for some of the rooms in your house, replacing your classic countertops with natural stones? If you're interested in such an action, it has never been easier, more affordable, and quicker to execute.
There are several natural stones which you could use to improve the look and feel of your home:
Quartz is the star of the 21st century, providing not only extreme durability and resistance to a number of physical threat, but also excellent design, flexibility and a natural look. The veiny look this stone has is unique for every slab, making it the best possible choice for design enthusiasts.
Granite is a classic, but that doesn't mean it cannot be adapted to the reality of 2017. The robust, hard-to-break and classic stone will get the job done in every kitchen, while still bringing the advantages of a natural stone.
Marble has long been the stable of elegance and high-class. It still is, but it's much more affordable nowadays, with companies bringing the material from top-notch manufacturers to your doorstep. What could you ask for more?
We touched upon a critical feature there – companies which are able to bring you natural stones from their own manufacturers will always give you better deals than middle men like Home Depot. We at Ann Arbor Stone & Tile are one such company, which handles everything from manufacturing the slab to delivering it to your doorstep in the Brighton, MI area and installing it in your kitchen.
Request a free project quote using our website, and our team will contact you in 24h to discuss the details of your next project. Closing in on great deals in the Brighton, MI area has never been more comfortable.